50% off - Geometry II By Guy de Jean - Handmade Luxury French - Display Umbrella - Final sale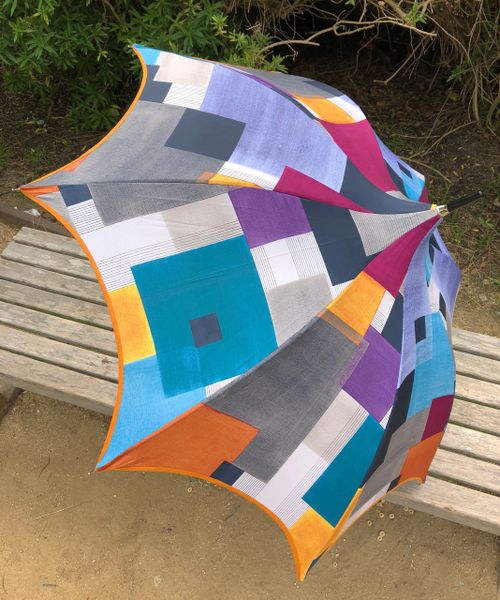 50% off - Geometry II By Guy de Jean - Handmade Luxury French - Display Umbrella - Final sale
This is a rare and discounted display item with cosmetic defects. Although the normal warranty and return policy do not apply, the umbrella was carefully inspected and all the moving parts are in perfect condition. The cosmetic defects are described below and you can also refer to the pictures. This is a unique opportunity to purchase a high end European umbrella at an incomparable price.    
Defects summary: (See pictures with red highlights). Abrasions on handle (1/2 inch x 3/8 inch) + scratch on wood shaft (1/16 inch) + multiple marks around end tip covering a area of 3/4 inch long  X 1/8 inch wide.
Country of origin: France.         Brand: Guy de Jean.
Materials: Steel frame, Lacquered wood, Acetate, Polyester.
Waterproof: Yes.
Manual opening, manual closing.
Original tags: Yes.
Manufacturer's box or bag: Yes.
Return/ Warranty: No. Final sale.
Shipping: $6.95. 
Questions? Please email here.
Reviews