Sold out - hand Decorated Pagoda grey - peach flower buds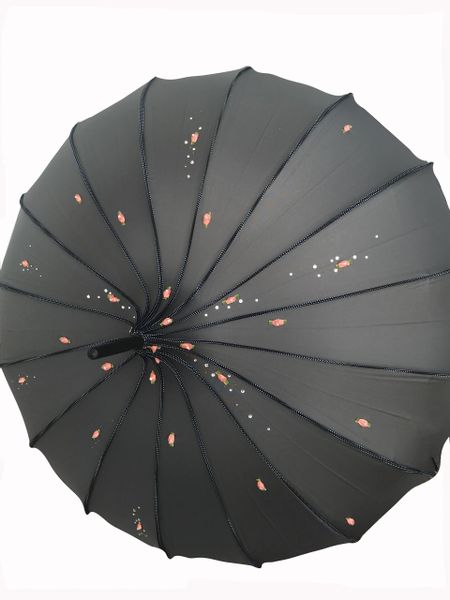 Sold out - hand Decorated Pagoda grey - peach flower buds
 New online! Decorating umbrellas is our specialty (see more like this one by clicking on the Instagram icon located on the top right of each page) and our entire collection is only available to purchase at events but starting this year you can now purchase some of these unique and waterproof umbrellas online.
What you need to know before placing your order:
 Each umbrella is made at the time you order therefore the bead or floral pattern may slightly differ from the picture.
Normal processing/delivery/shipping time do not apply. Processing time varies between 3 and 12 days + 3 to 6 days shipping time.
No return accepted
16 panel umbrella with 1 or 2, sometimes 3 peach flower buds per panel and 1 clear rhinestone at the center of each bud. A cascade of clear and yellow/amber color rhinestones surrounds about one-third of the buds. All flowers are waterproof and injected with silicone.
Clear protective sleeve included.
Waterproof polyester- 33 inches long - 1.5 lbs. - 90 cms canopy span – Faux leather handle covering - Snap fastener.

Click here to see it plain

Reviews
Featured Products