Fashion Sun Umbrella - Hand Sewn Grey Feather Trim - Cream Pagoda Canopy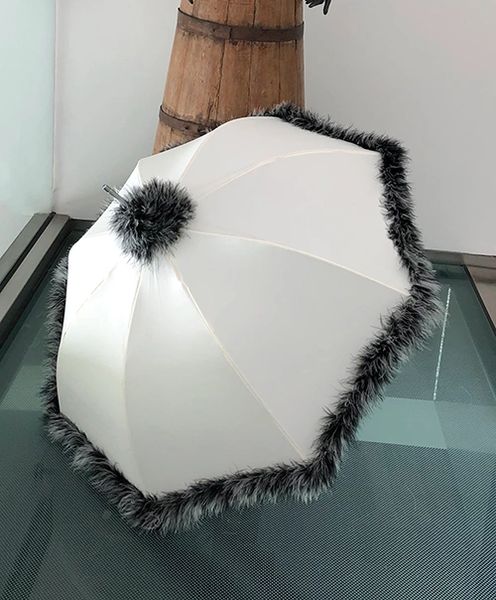 Fashion Sun Umbrella - Hand Sewn Grey Feather Trim - Cream Pagoda Canopy
A beautiful and functional sun umbrella that takes your mind back to simpler times.
A perfectly shaped canopy and the softest down feather trim give an exquisite, feminine and polished look to this one of a kind accessory. The creative process is lengthy but well worthwhile since the result is stunning. NOT intended to be used in the rain.
WHAT YOU WILL LOVE
♥ Unique. Handmade.
♥ High quality frame and feathers.
♥ Versatile. Sun umbrella;Stylish walking stick; Beautiful home decoration.
►This item is made as you order it. Processing time is up to 10 business days.
See more feather parasols here.

Parasol:
Size: 35"long - 36" diameter.

Materials: Polyester, Fiberglass, Metal alloy, Turkey down feathers.
Automatic opening/Manual closing - Snap fastener - Fabric sleeve covering the handle and bow at the base of the shaft.
Feathers:
This collection includes light (thinnest), medium and heavy weight (fullest) feather trims.
This listing is for a Medium Weight feather trim.
Care:
If feathers are unintentionally exposed to water, blow dry on low setting until completely dry.
Shipping: $6.95 shipping fee - Signature required at delivery (free to buyer) - Express shipping available upon request at additional fees.
Packaging: Clear cellophane sleeve.
Return: Yes, however the usual 21 days return policy does not apply to this item. Must be returned within 48 hours of delivery. See return policy for details. 
Questions? Please email us here.
Reviews