Floral and butterflies Pattern umbrella by il Marquesato - Made in Italy - Satin-like ruffles - Black Leather handle - One-year warranty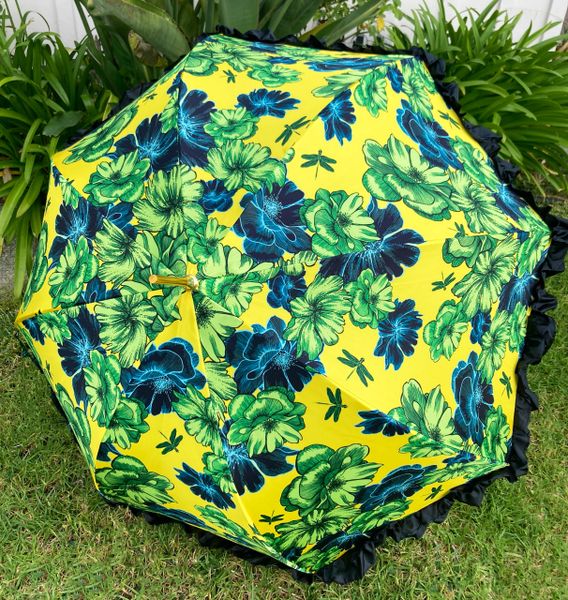 Floral and butterflies Pattern umbrella by il Marquesato - Made in Italy - Satin-like ruffles - Black Leather handle - One-year warranty
Introducing il Marquesato's stunning luxury umbrella, meticulously crafted in Italy by hand. This full-size, all-weather umbrella boasts a vibrant and waterproof satin like fabric in blue green and yellow. Complemented by a luxurious leather handle and a captivating gold frame, This beautiful umbrella allows you to elevate your style while staying protected in any weather. Perfect for adding a touch of elegance and color to your outdoor moments.
Country of origin:    Italy
Designer/ Manufacturer:    il Marquesato.
Materials:    Polyester, leather, steel, satin ruffles.
Style:    Dome.
Pattern:    Floral and dragonflies.
Colors:    Yellow, green, blue, black.
Dimensions:    37" diameter - 36.6" length.
Waterproof:    Yes.
Automatic opening - Manual closing.
Designer gift box or bag:    Yes.
Return:    Yes. Please read our return policy terms.
Warranty:    One year against faulty workmanship.
Shipping:    Free shipping in US only. Signature required at delivery.
Questions? Please email Leabrig66@yahoo.com.
International orders please contact us for a shipping quote.
Reviews