Guy de Jean Swan Umbrella - Handmade In France - Double Canopy - UV Protection - Deep Royal Blue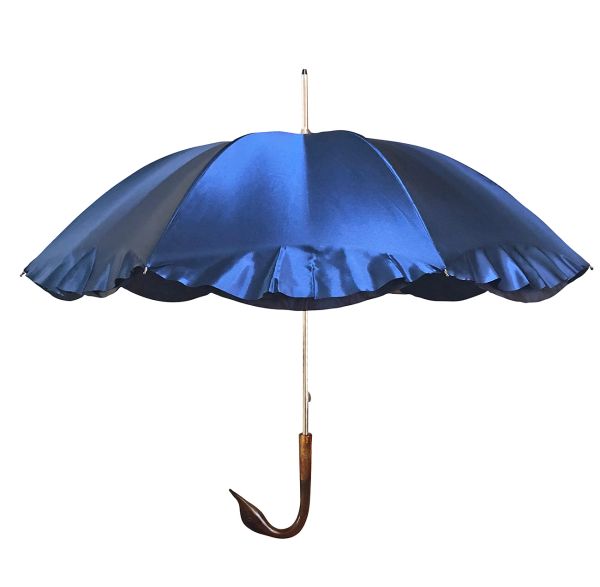 Guy de Jean Swan Umbrella - Handmade In France - Double Canopy - UV Protection - Deep Royal Blue
Guy de Jean umbrellas. A French tradition.
The swan umbrella is a true jewel designed by french manufacturer Guy de Jean. It features a blackout waterproof, anti-UV SPF 50 double canopy. The mauve and dark blue inner lining has a rose pattern and the deep royal blue outer canopy resembles and feels like satin and reflects the light beautifully. The steel frame has a thick shaft of 5/8 inches and the ribs are hidden between the two layers of fabric. The handle is a perfectly proportioned swan head made of translucent amber resin. This umbrella is 2 to 3 inches shorter in length and 2.5 to 3 inches shorter in diameter than a traditional umbrella. It is an all weather accessory that does not require any particular care and that is made to last a lifetime.
About Guy de Jean.
Located in the middle of the Bourgogne French country, this family business has designed and manufactured umbrellas and parasols since 1920. In 2011, Guy de Jean was awarded the Living Heritage Label by the French government, a unique distinction that acknowledges the excellence of his skills.
Country of Origin:    France
Manufacturer:    Guy de Jean
Materials: Polyester, Acetate resin, Steel.
Manufacturer's gift bag or box:    Yes
Manual opening, manual closing.
Waterproof:    Yes.
Sun Protection:    Yes. Blackout.

Shipping:    Free. Signature required at delivery. Express shipping available upon request (additional fee will apply).
Return:    No. This item is only available at Leabrig and cannot be returned. 
Questions? Please email Leabrig66@yahoo.com
Reviews