Jacquard Umbrella by ilMarquesato - Made in Italy - Waterproof - Black Leather handle - One-year warranty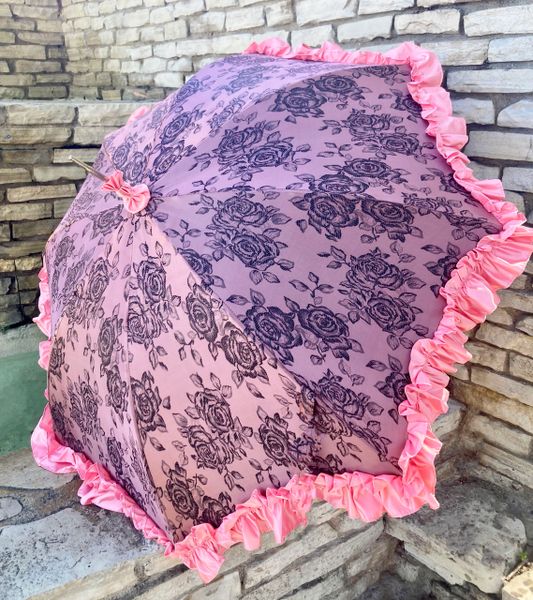 Jacquard Umbrella by ilMarquesato - Made in Italy - Waterproof - Black Leather handle - One-year warranty
Elegance and craftmanship converge in this meticulously crafted umbrella, made by hand in Italy. The delicate dusty pink Jacquard fabric gleams and shimmers as it dances with the light and the satin-like pink ruffles add a touch of sophistication to your every step. While it's shaped like a parasol, this umbrella is fully waterproof. The umbrella's black leather handle is artfully twisted for a touch of flair. With this beautiful handcrafted umbrella, you can embrace both the practicality of staying dry and the allure of turning heads with every use.
Country of origin:    Italy
Designer/ Manufacturer:    ilMarquesato.
Materials:    Steel, Leather, Waterproof Jacquard fabric, satin ruffles.
Style:    Parasol.
Pattern:    Floral.
Colors:    Dusty pink canopy, Pink ruffles.
Approx. dimensions:    33.5" diameter - 34" length. (traditional umbrella size is approximately 36" diameter and 37" long).
Waterproof:    Yes.
Manual opening - Manual closing.
Designer gift box or bag:    Yes.
Return:    Yes. Please read our return policy terms.
Warranty:    One year against faulty workmanship.
Shipping:    Free shipping in US only. Signature required at delivery.
Questions? Please email Leabrig66@yahoo.com.
International orders please contact us for a shipping quote.
Reviews