Maeva Fuschia - Frilly Pagoda Shaped Umbrella - Embellished With Rhinestones - Waterproof - Made To Order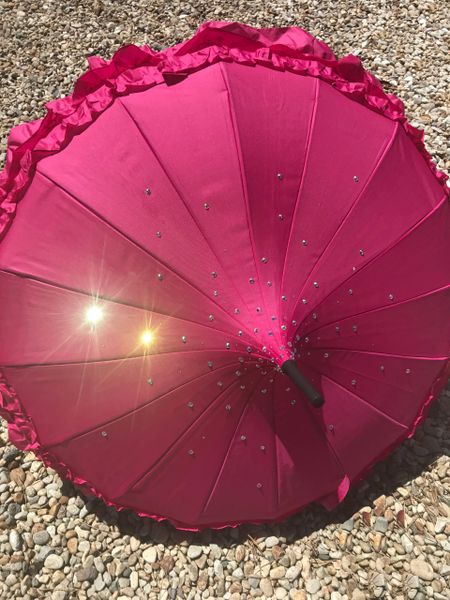 Maeva Fuschia - Frilly Pagoda Shaped Umbrella - Embellished With Rhinestones - Waterproof - Made To Order
Let yourself be entranced by the striking effect of about 150 rainbow rhinestones sprinkled over the canopy of this wide pagoda shaped umbrella. This is a waterproof item only available at Leabrig.
Click here to see it plain.
Product:    Crafted and embellished by hand. All weather. Decorative. Due to the handmade nature of the product the item you will receive may be slightly different than you see pictured. Our rhinestones have been tested to resist fading due to sun exposure. All customizations are firmly affixed and waterproof. 
Processing time:    Made to order - 5 to 7 business days (+3 to 5 days shipping).
Waterproof polyester - Velcro fastener - Fiberglass - Rubberized handle.
Manual opening - Manual Closing.
Return:    Yes. See return policy.
Packaging: Clear cellophane sleeve.
35" length - 37 width - 1.5 Lbs.
Questions? Please email us here.
Reviews