Feather - Shaggy Pink Down Feather/White Ostrich Trim - Hand Stitched - Full Size Black Parasol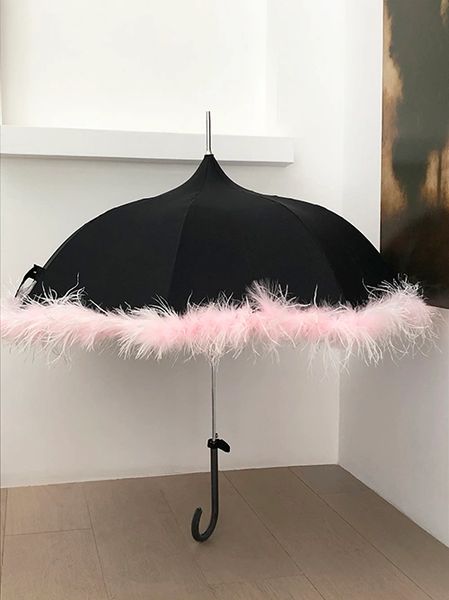 Feather - Shaggy Pink Down Feather/White Ostrich Trim - Hand Stitched - Full Size Black Parasol
Our line of hand made ogee shaped feather parasols is of exceptional quality and hard to find. We use high quality umbrellas and soft, fluffy down and ostrich feather trims which give an exquisite, feminine and polished look. The creative process is lengthy but well worthwhile since the result is stunning. NOT intended to be used in the rain.

Due to the Covid-19 outbreak, we are unable to supply gift bags at the moment. For this reason we have temporarily reduced the price of this item.

Parasol:
Size: Full size stick style.  35"long - 36" diameter.

Material: Polyester, Fiberglass, Metal alloy.
Use: Parasol, home decor. This is NOT a rain accessory.

Features: Automatic opening/Manual closing - Snap fastener - Fabric covered handle and bow.
Feathers:
Shaggy pink down feathers and white ostrich feather trim. The hand stitched trim will not unravel as feathers are sewn onto a cotton cord. 

Shipping: $6.95 shipping fee - Signature required at delivery (free to buyer) - Express shipping available upon request at additional fees.
Packaging: Clear cellophane sleeve.
Return: Yes, however the usual 21 days return policy does not apply to this item. Must be returned with 48 hours of delivery. See return policy for additional info.
Questions? Please email us at Leabrig66@yahoo.com.
Reviews