New! Chantal Thomas Promenade Parasol size- black and emerald - Handmade in France - Waterproof and anti-UV Treated Fabric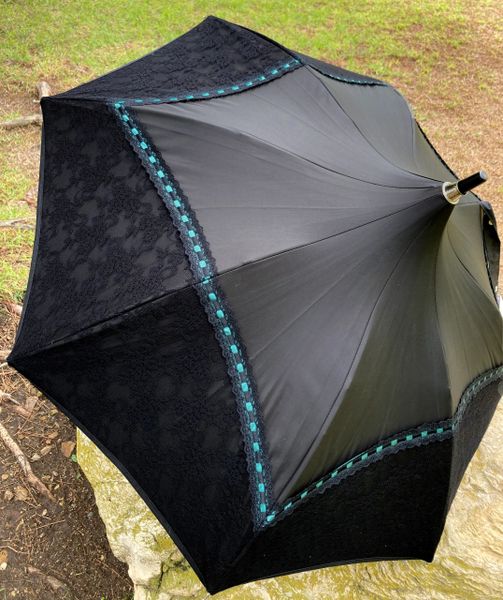 New! Chantal Thomas Promenade Parasol size- black and emerald - Handmade in France - Waterproof and anti-UV Treated Fabric
Please note that this item is shorter in length and width than a traditional umbrella. See sample size picture. 
A Chantal Thomass umbrella is always a very unique accessory. Exceptional workmanship and luxurious textiles tested by the French Textile Institute. Lightweight. Easy to carry.
Country of origin:    France.
Designer:    Chantal Thomass.
Colors:    Black polyester. Black Lace. Emerald ribbon.
Size:    31" diameter. 28" length.
UV protection:    Anti-UV treated textile SPF 50+.
Waterproof:    Yes.
Materials:    Steel, Lacquered wood, Acetate, Polyester, Lace.
Manual opening. Manual closing.
Warranty:    One year against faulty craftmanship. 
Designer box or bag:    Yes.
Return:    Yes. See return policy.
Free shipping with signature required at delivery. Express shipping available upon request (additional fees will apply).
Questions? Please email Leabrig66@yahoo.com.
Reviews