Stunning Gradient Floral Glow umbrella | Crafted by hand in Italy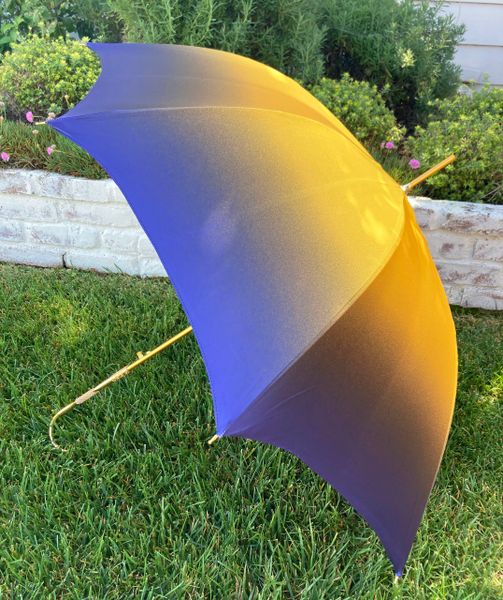 Stunning Gradient Floral Glow umbrella | Crafted by hand in Italy
This exquisite umbrella seamlessly blends functionality with breathtaking aesthetics to elevate your style, rain or shine. The umbrella features a double-layer canopy made of waterproof satin-like polyester. The outer layer showcases a mesmerizing gradient from yellow to a deep blue hue. When exposed to natural or artificial light, the floral design within the inner canopy comes to life, creating a captivating atmosphere. The 24K gold-plated handle, adorned with Swarovski® crystals, complements the design, while a gold ring serves as a stylish closure.
Country of origin:    Italy.
Designer/ Manufacturer:    ilMarquesato.
Materials:    24k Gold-plated handle | Waterproof satin-like polyester | Swarovski® crystals.
Approx. dimensions:   36.5" length | 40" diameter. 
Waterproof:    Yes.
Automatic open | Manual close.
Designer gift box or bag:    Yes.
Return:    Yes. Please read our return policy terms.
Warranty:    One year against faulty workmanship.
Shipping:    Free shipping in US only. Signature required at delivery.
Questions? Please email Leabrig66@yahoo.com.
International orders please contact us for a shipping quote.
Reviews