Red Scottish Cat Folding Umbrella by Guy de Jean - Semi-Automatic - Le Parapluie Francais® Luxury Collection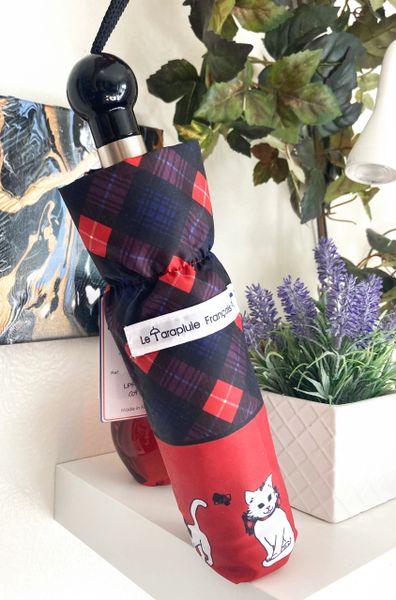 Red Scottish Cat Folding Umbrella by Guy de Jean - Semi-Automatic - Le Parapluie Francais® Luxury Collection
Crafted in France by Guy de Jean, "Le Parapluie Francais®" embodies elegance and French heritage with its classic navy, white and red color scheme. Notably adorned with "Le Parapluie Francais®" white strap imprint, this umbrella epitomizes durability, superior materials, and craftmanship.
In 2011, The Guy de Jean family business received the prestigious "Living Heritage Label" from the French government, a testament to their unparalleled expertise and knowledge accumulated since 1920.
Brand/ Manufacturer:    Le Parapluie Francais®/ Guy de Jean.
Country of origin:    France.
Materials:     Reinforced steel ribs. Acetate. Lacquered wood.
Waterproof:    Yes.
UV protection:   Anti-UV treated fabrics. Sun protection factor SPF50+.
 Automatic opening. Manual closing.
Manufacturer's gift bag or box:    Yes.
Warranty:    One year against faulty workmanship.
Return:    Yes. Please read return policy.
Shipping:    Free. Signature required at delivery.
Questions? Please email Leabrig66@yahoo.com. 

Reviews